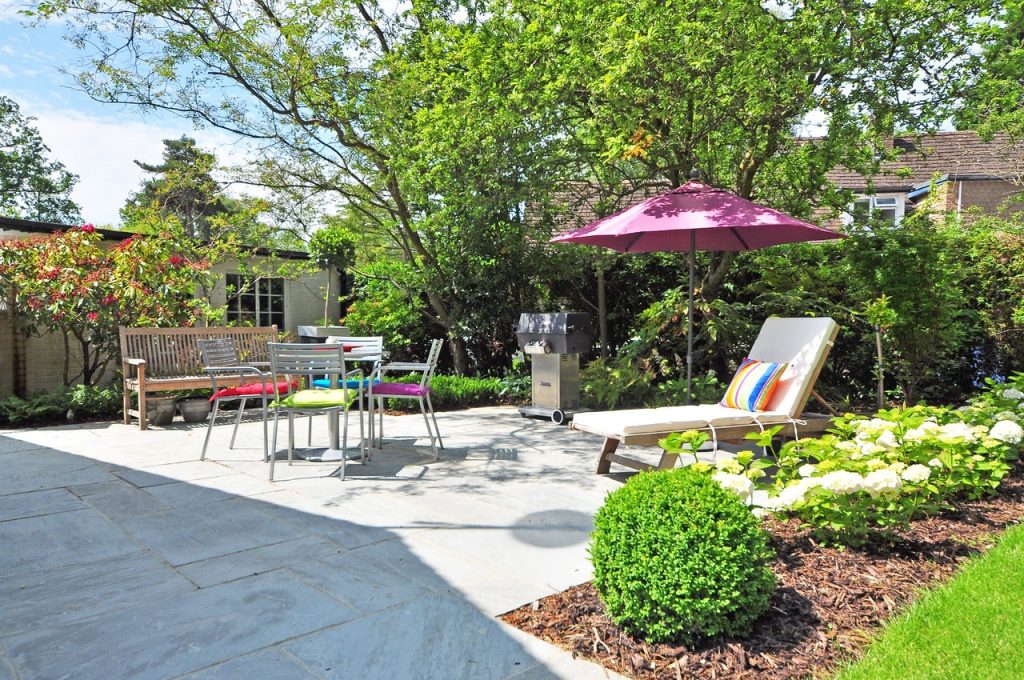 When you go to someone's home, one of the first things you may notice is their backyard space and landscaping. This is often because the garden and backyard tend to showcase the beauty of the home when you first see it. There are many trends coming out each year for your home. And your backyard is no exception. 
If you want to remodel your backyard, then knowing what the recent trends going around are will help you to achieve the best look. Here we have a few trends in the backyard designs that will help you to create your own perfect little oasis.
Indoor Coming Outdoors
Add a nice rug underneath your outdoor furniture if you have a patio area. This will help your area to seem more personal and relaxing. The idea behind this is to make a seamless transition from the inside of your home to the outside area. Even the outdoor furniture now is starting to be much like what you would have inside your home. Outdoor sitting areas that are undercover now are having outdoor rugs, ottomans, décor pieces, lamps and cushions.
Adding accent pillows for colour and texture
Patterned subjects were just known to be for indoor use but now we are seeing it as part of the outdoor décor too. Patterns and bold colours work well as they can create a contrast to the garden plants you may have. Besides, pillows are easy and affordable to change when you want a new style or feel to the space.
New neutral is blue
If you have furniture already, but feel like it doesn't match your style or colour, them then save some cash and paint them in a fun shade. A colour like blue, that will allow you to brighten up everything in the surrounding area. Blue is the neutral colour when you are talking about outdoor areas, and it tends to work really well with garden colours.
Add a little vintage
Mosaic tables work well for adding some character into the space – without overcrowding it. Vintage is a new trend that is now being introduced to outdoor design. Mosaic tables are in now and with so many colours and patterns you can find one to match well with your style. Can't find one you like? Why not go get some old tiles, an old table and create one yourself! 
Natural is best
Natural materials work well (try using Australian products) to bring in a lively effect to the existing décor and themes that you already have going on. Woodworks well here as it can go into so many different designs. Wood can be modern, vintage, rustic etc.
Using technology
Adding some technology to your outdoor area is a huge trend now. This can also be good for security. I've used phone accessories to set up a camera before – it worked like a charm. I also used my phone socket to take photos from weird angles. That is perfect for "before and after" photos of your garden! Technology is everywhere and it continues to grow. Bring some Wi-Fi controls into the scene with a stereo system or some LED light fixtures. Add some extra PowerPoints in case you want to bring your laptop or mobile device out.
LED lighting
Led lighting works well to add some appeal to your outdoor space. While outdoor lighting is not a new trend using LED, lighting is. It creates a relaxing atmosphere and they are cheap to run and fewer dangers to worry about.
By just adding a few of these new trends you will have a very updated feel in your garden space. You can be sure everyone will enjoy it and complement it at your next BBQ!