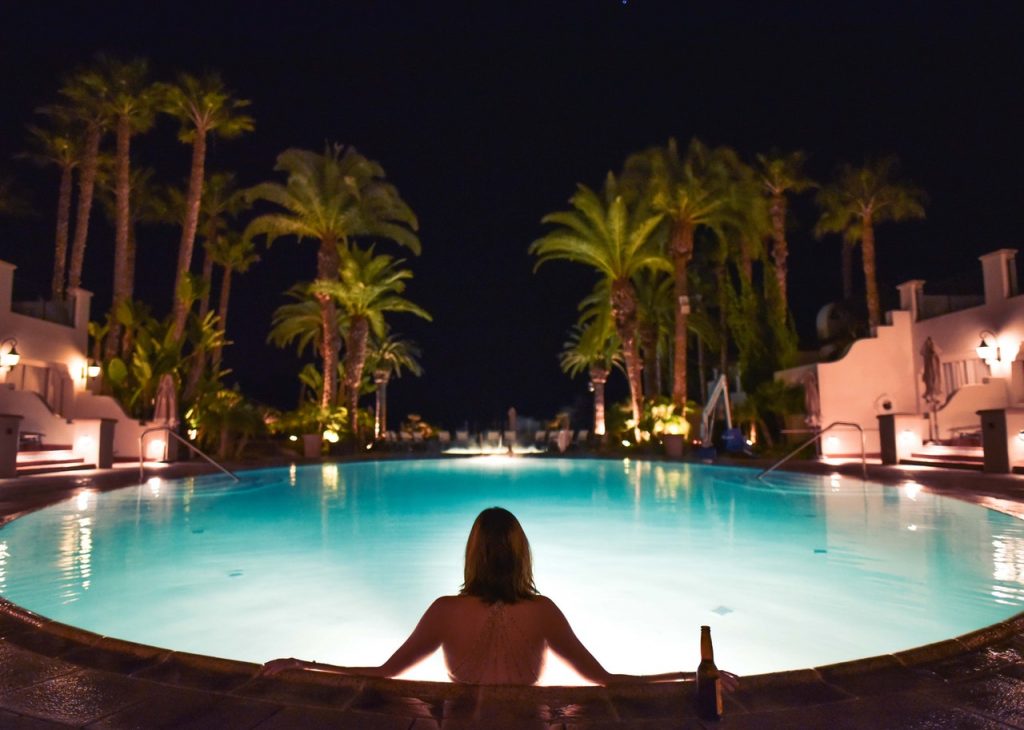 Upgrading a boring pool with an innovative idea can create memorable moments. While some of us are a bit hesitant to get in (so as not to ruin our new blow wave curls!), everyone loves a pool. Some of the most impressive designs like fixing LED lights in the pool can enhance its appearance. Apart from enhancing the appeal of the pool, lighting fixtures make swimming in the pool at night a fun activity. While swimming, a functional pool with unique features promotes good feelings. Kind of like getting a new fancy manicure. These features and decor accessories that can make a pool stand out.  Read on to find out what you can do!
Install Unique Water Features
Retrofit pool fountains are cheaper than high-end models. Before making any improvements to your pool, get a designer to choose the right type of fountain. As water features; fountains, and waterfalls for pools create serenity. Generally, artificial water features like pools create a focal point in that environment. For waterfall installations, natural stones like granite, and quartz can be used to decorate the structure. Some special waterfall designs include grottos, and cascading levels of artificial rocks, and natural stones. It's the cascading water from any waterfall structure offers the effect of a breathtaking view. The civil works contractor can also create a visual effect with floating and theatrical fountains.
Brighten Up Your Pool with LED Lights
Do you need your pool to appear sophisticated? Using water-resistant light bulbs can make striking impressions of your pool. Lighting effects provide elegance because of the reflection it makes in water environments. You'll find a range of sizes and styles of swimming pool light fixtures online. Normally, LED fixtures for the pool don't have any effects during the day. At night, a well-lit poolside is often the centre of attraction.
Don't Forget To Add Hot Tubs 
You might need to upgrade your pools, and add spas-like experience for users. Usually, private pools with its spa or hot tub create a luxury appeal. Couples can liven up their mood and settle for a romantic evening in hot tubs. However, it's proper to consider the pool's dimension before installing spillover spas or hot tubs. Apart from adding aesthetic beauty to the area, the hot tub could create a romantic ambience of your outdoor area. This design idea is ideal for private pools or high-end romantic getaway facilities.
Upgrade the Pool's Coping
It's worth the investment when pools are upgraded with durable materials. The top part (edge) of a pool that's above the tile line is called a coping. It's like that separates the pool decking from the main structure. Most high-end pools use decorative, natural stone designs as copings. For safety, choose a coping material that is slip-resistant, and functional.
Surround the Pool with Impressive Exterior Design Ideas
Regardless of the decorative option for a pool, smart contractors recommend exterior design features that are magical. A patio with a mobile bar or poolside fire pits can create a relaxation point outside the pool. By installing a small poolside fire pit at from the private pool, it can create warmth for your guest and other users. Usually, outdoor design materials are expensive because they add some unique value during colder nights of summer months.
Add Chrome Bars around the Pool's Perimeter
People create a fence-like bar around their pool for safety, but it adds some accents. The use of chrome bars around the pool can add some bespoke accents. It can also and prevents children from falling into it. Installing a chrome bar around the perimeter of your pool can also improve the ambience of the outdoor space. Hire a designer that understands how to use great features to make your pool stand out. To ensure the durability of the chrome bar, use materials that are resistant to the effects of weather.